About Us
Our Story
The Peel Boutique was founded by Dr Rabia Malik, a GP and aesthetic doctor with a private practice based at Grace Belgravia, the female-only member's club based in Knightsbridge. Her approach is 100% non-invasive and is centred around the use of chemically-correct, non-toxic skincare products and treatments.

Over the years Dr Rabia had noticed an absence of dr-formulated facial treatments at an affordable price-point. She launched The Peel Boutique in order to address this shortfall and in doing so has made quality, effective skin treatments available to a wider audience.

In the Spring of 2018 The Peel Boutique will launch an 'at-home' range of products to compliment the effects of our treatments. Sign up to our newsletter for updates and to be the first to hear about our special offers.
Our Treatments
The Peel Boutique offers four 20-minute, express peel treatments which have been expertly designed to maximize the overall health of your skin. Each treatment has been designed with a specific skin type in mind. Meanwhile our 'Add-on Menu' offers a range of complementary treatment options.

Due to the formulation of our treatments there is no associated down-time, meaning that you can continue with your day without having to worry about the appearance of your skin.
Our Products
Our 'at-home' product range (launching in Summer 2018), provides a dr-formulated, affordable skincare-routine that looks after your skin from a 360-degree perspective. We believe that our four products are the basic skincare products you need to get best possible results.
Our Values
To provide quality skincare at an affordable price-point.

To educate with simple, transparent messaging.

To act with integrity, by committing to the highest quality of treatments and products that are driven by solid scientific research.

To provide an effective, non-toxic and non-invasive route to ageing well.

To consider our environmental footprint in everything that we do.
Dr Rabia Malik
Dr Rabia Malik is a sought-after aesthetic medical doctor who specialises in non-invasive facial rejuvenation and a holistic approach to problem -skin solutions. It is her holistic approach to skin-health, focusing on custom made, chemically correct products and treatments, that set her apart from other aesthetic doctors.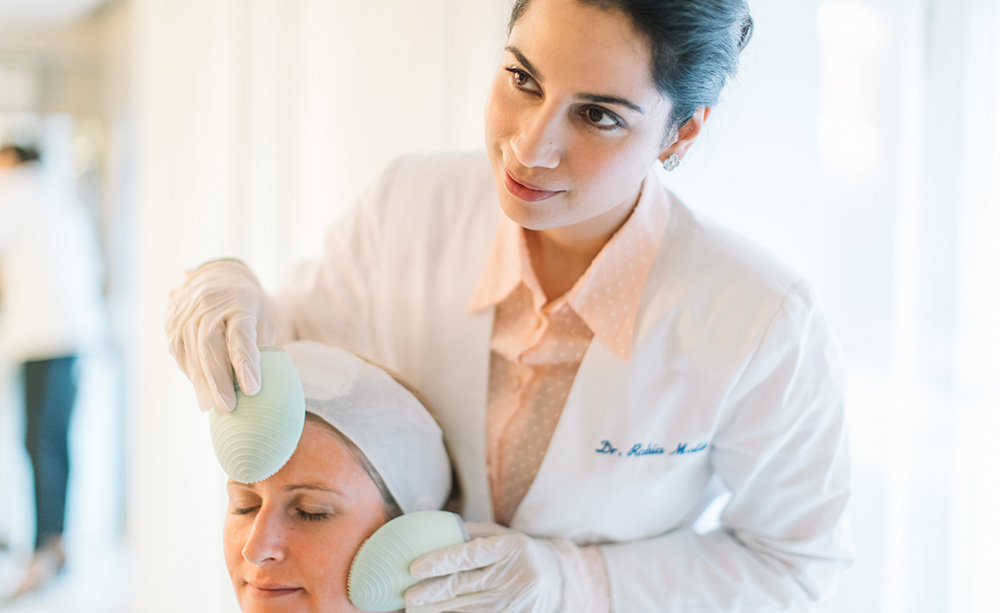 Her approach is focused around facial skin peels, which remain one of the most effective options for a healthier, vibrant complexion. Unlike so many chemical peels on the market, Dr Malik works with various formulations that minimize inflammation and damage to the skin. She strives to provide peel treatments that offer minimal downtime and maximum results, whilst remaining chemically correct.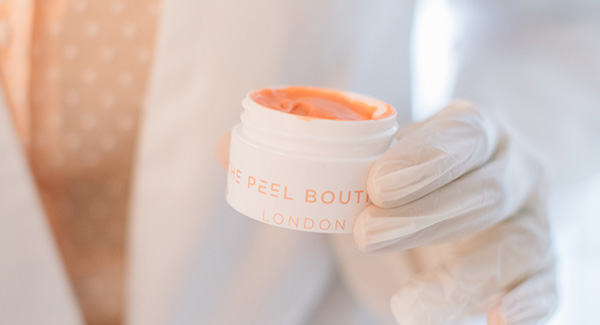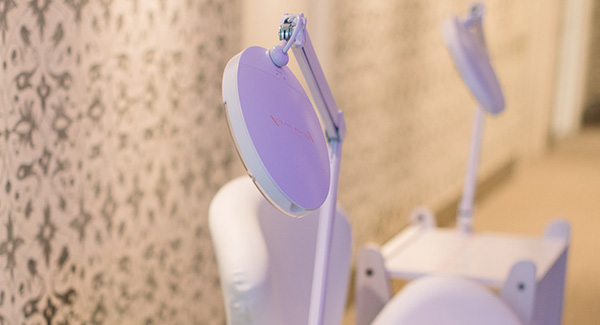 The Science
Skin peels should be chemically correct, non-toxic and correctly formulated to maximally rejuvenate the skin. When it comes to choosing the right peel, it's important that it does not contribute to inflammation or challenge organ function.

Evidence suggests that chemically correct products penetrate into the epidermal and dermal layers of the skin cells to bring about an anti-aging, healing response. This effect shields against visible signs of aging and skin damage, resulting in a visibly firmer, more youthful complexion.
Chemically Correct
The term chemically or chirally correct is used to describe products which have been specially formulated to ensure that the molecules within perfectly match the receptors in the human skin cells. This ensures maximum possible efficacy of the active ingredients and minimum irritation. All Peel Boutique products and treatments have been formulated in this way.

Lactic Acid
Most peels on the market are formulated with a glycolic acid base, which can be irritating, especially to sensitive skin. All of our products are formulated from lactic acid, which is derived from milk and is a much gentler option.

Enzymes
Our products utilize both lactic acid and fruit enzymes and it is the combined effect of these two ingredients which make our treatments so effective.

Strength
Our peels are professional strength; however, we don't discuss their strength in terms of percentage. The fact that our peels are chemically correct and mix enzymes with lactic acid enables us to use much lower concentrations of active ingredient, whilst bringing about the desired results.
The 5 Pillars of Skin Health
1. Diet
What you put into your body has a direct impact on the health of your skin. Drinking plenty of water (6-8 glasses per day) and adopting a balanced diet are key factors to the appearance of your skin. Avoid processed food where possible and anything that contains added sugar (the odd treat is obviously fine!). Your dairy and gluten should be moderated and make sure that you place emphasis on the providence of your food. Hero ingredients are good fats including oily fish such as mackerel; avocados, nuts, seeds and extra virgin olive oil. An abundance of colourful vegetables are important too- eat the rainbow.
2. Sleep
It's when you're asleep that your skin cells regenerate. Ensuring that you get adequate sleep (aim for 8 hours per night) is essential in allowing for adequate skin cell renewal.
3. Exercise
Cardio-based exercise increases the rate of your circulation and therefore speed at which nutrients are delivered and toxins are removed from your skin cells. It also allows for adequate oxygenation of the skin cells. Regular cardio is important in maintaining the health of your skin.
4. Environment
Our modern-day environment, especially that of the city is full of hazards to our skin; pollution, cigarette smoke and extreme weather are just some of the challenges that our skin faces. Cleansing effectively at the end of each day and avoiding toxin exposure where possible encourages the best possible skin health.
5. Stress
The human response to stress is to release the hormone cortisol which damages the collagen within the matrix of your skin, it also effects hormone balance. In today's world it's virtually impossible to avoid stress completely, but make sure that you do your best to adopt a good work, life balance and that you take time each day to relax and unwind.